Blockchain is a new technology. Whoever has the first mover advantage will be ahead in their career." says a Participant of IIIT-H | TalentSprint Blockchain Executive Program
It is a radical technology shift that is going to redefine platforms, verticals, and applications to an unprecedented level. The question is – who is scared and who is ready?
The gossip continues! However, the theme has changed. Earlier, when he used to walk up to the water cooler, he would hear about who has got the H1 Visa, who is leaving for his venture and who ate away all the cookies in the office-pantry. However, now, the chatter hovers around Blockchain, distributed ledger technology, automating trust and blockchain beyond cryptocurrencies and how will it impact the life of a tech professional.
As he walked up to his desk, he used to wonder whether it is too early or too late for him to brace up for this new storm. That's when he looked around. The friends he trusted for the perfect advice were equally disillusioned and kept going back to their cubicles with the same blank expressions.
The camp is on!
People like Ramesh Hallur, Senior Manager, Cognizant, are often the early birds walking in the direction of the industry trend enabling early adoption of something new. They can be spotted at boot-camps conducted by the likes of IIIT-Hyderabad and TalentSprint. He is one of the participants in the first cohort of the program which started in October 2018.
IIIT-Hyderabad and TalentSprint have designed this program covering both Blockchain Technologies and Solutions. The program gives equal focus on theory and practice. Over 3 months, participants learn two blockchain platforms, ethereum, and hyper ledger in depth and get exposure to half a dozen others. In addition to continuous practice, the capstone project enables them to get close to implementing a blockchain POC in the area of their choice.
Hallur thinks it is the future, he says, "Right now everyone is, more or less, on slate zero. The ones who are here, they will now be ahead in their career."
So, what makes them observe the big picture and fly towards the land of opportunities? It certainly is not the temptation of just learning the fundamentals, which of course is essential.
Cut your teeth deep
Replete with master lectures, mentored labs, group projects, and hackathons – this program is as much fun as it is challenging. One gets to learn from both academic and industry leaders and people who form the top-notch think-tank of Blockchain in India. Modules are designed with particular emphasis on experiential learning.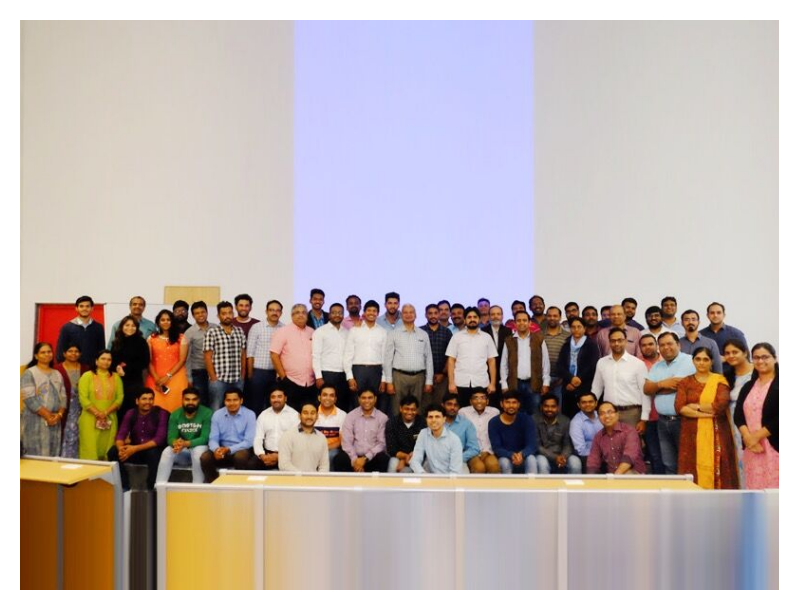 Interestingly, a participant points out something else too – the mindset wheels that get changed at these pit-stops. "Blockchain, if one has to apply it for an entity like the Government, will not be about just one stakeholder. Coaching on it, before the POC (Proof of Concept) comes into play, is very crucial. After coming here, a person who gets into implementing Blockchain goes in with the right mindset. It helps to get this figured out; Blockchain is not just a technology challenge but a business challenge."
Sundeep V Reddy, Cloud Ops Engineering Specialist, is now confident of building his own app on a DL (Distributed Ledger).
For Anthony George, Technical Specialist, IBM the hands-on experience plus the test cases that are provided here are the keys. "We can put it into the code and try to use blockchain on a small scale. It is truly a technology about bridging differences between small and big players."
The focus of the Blockchain Executive Program by IIIT-Hyderabad and TalentSprint is on laying the foundations followed by practice and implementation. Participants have worked on use cases across the supply chain, microlending, asset securitization, insurance, digital identity, content management, trade finance, disaster management and more. Ramkrishna, CEO, Pranco Technologies Pvt. Ltd says, "It is about how to give a business solution. To commercialise it and incentivise it."
Walk away from the cooler – to the Bonfire
V Aravind, Founder CEO, Sahasradhaara Services says, "The program is designed with exposure to its impact on the future. This is a place that harbors everything, from a three-month intensive boot-camp, complemented with one-year online access and support to an in-depth plus comprehensive curriculum. Partnering with India's top blockchain COE gives it the strength and foresight that participants adore and leverage strongly."
Some professionals have got so confident, they may launch their startups in this space soon.
"The knowledge shared by industry experts is exceptional. It motivates me to apply it in my start-up, with confidence." As Hallur sums it best – it was worth coming and joining here.
Hope the guy at the water-cooler heard him in time.