Build DeepTech Expertise
from Top Institutions
Apply for Scholarship

Apply before March 24, 2023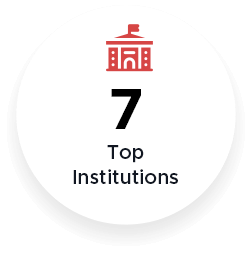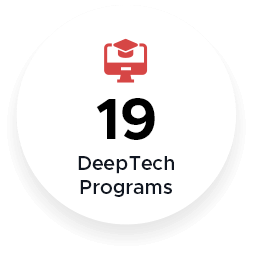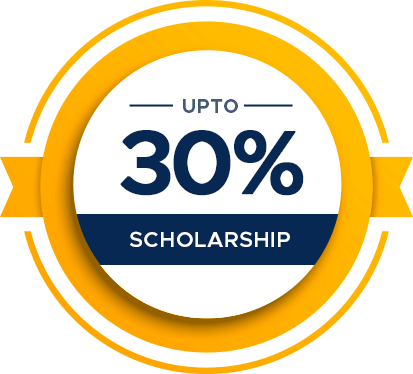 Claim up to 30% Fee Scholarship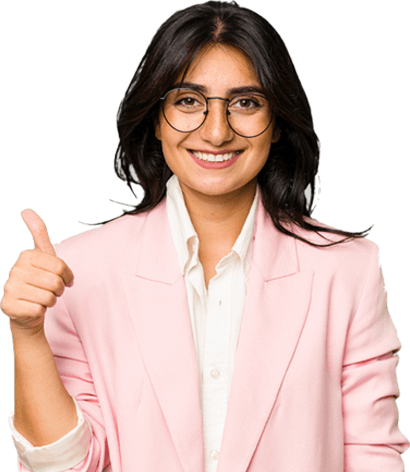 How it works?

4 Simple Steps to Claim Scholarship
Explore Programs

Pick a program based
on your specialization

Apply for Scholarship

Register your intent to
build DeepTech expertise

Connect with your RM

Check your eligibility
for the scholarship

Claim Scholarship

Get confirmation based
on your eligibility
Programs to Build Expertise in
IISc Bangalore

Machine Learning and AI for Autonomous Systems PG Level Certification Starts in March 2023 9 Months

Highly Demanded

IISc Bangalore

AI and MLOps PG Level Certification Starts in February 2023 9 Months

Most Coveted

IIT Madras

Applied Data Science and Machine Learning PG Level Certification Starts in March 2023 12 Months

Most In-Demand

IIIT Hyderabad

AI and Machine Learning PG Level Certification Starts in March 2023 9 Months

Top Pick

IIT Hyderabad

AI, Emerging Technologies Professional Certification Program Starts in March 2023 6 Months

Most Preferred
IIIT Hyderabad

Blockchain and Distributed Ledger Technologies Advanced Certification Starts in April 2023 6 Months

Highly Recommended
IIT Kanpur

Cyber Security and Cyber Defense Advanced Certification Starts in April 2023 120 Hours Hands-on Program

Trusted Choice
IISc Bangalore

Computational Data Science PG Level Certification Starts in March 2023 12 Months

Most Preferred

IISc Bangalore

Deep Learning (Foundations and Applications) PG Level Certification Starts in March 2023 10 Months

Top-Rated

IISc Bangalore

AI and MLOps PG Level Certification Starts in February 2023 9 Months

Most Coveted

IIT Madras

Applied Data Science and Machine Learning PG Level Certification Starts in March 2023 12 Months

Most In-Demand
IISc Bangalore

AI for Digital Health and Imaging PG Level Certification Starts in March 2023 12 Months

Highly Demanded
IISc Bangalore

Digital Manufacturing and Smart Factories PG Level Certification Starts in March 2023 6 Months

Trusted Choice
IISc Bangalore

Machine Learning and AI for Autonomous Systems PG Level Certification Starts in March 2023 9 Months

Highly Demanded
CMU School of Computer Science,
Executive Education DevOps Advanced Certificate Program Starts in April 2023 6 Months

Most Sought-After
IIT Hyderabad

Visual Design and User Experience PG Certificate Program Starts in July 2023 6 Months

Most Preferred

IIT Hyderabad

AI, Emerging Technologies Professional Certification Program Starts in March 2023 6 Months

Most Preferred
IISc Bangalore

Micro and Nanoelectronics PG Level Certification Starts in March 2023 9 Months

Most Popular

IISc Bangalore

VLSI Chip Design PG Level Certification Starts in June 2023 9 Months

Trending Right Now
IISc Bangalore

Business Analytics PG Level Certification Starts in March 2023 9 Months

Trending Now
IISc Bangalore

Micro and Nanoelectronics PG Level Certification Starts in March 2023 9 Months

Most Popular

IISc Bangalore

VLSI Chip Design PG Level Certification Starts in June 2023 9 Months

Trending Right Now
CMU School of Computer Science,
Executive Education Software Architecture Advanced Certification Starts in March 2023 6 Months

Most Demanded
University of Michigan

Automated & Electric Vehicles Advanced Certification Starts in March 2023 6 Months

Trending Now

IISc Bangalore

Mobility Engineering PG Level Certification Starts in March 2023 10 Months

Expert-Approved
IISc Bangalore

5G Technologies with AI and Cloud PG Level Certification Starts in March 2023 9 Months

High ROI
Explore Programs from Top Institutions
CMU School of Computer Science,
Executive Education DevOps Advanced Certificate Program Starts in April 2023 6 Months

Most Sought-After

CMU School of Computer Science,
Executive Education Software Architecture Advanced Certification Starts in March 2023 6 Months

Most Demanded

University of Michigan

Automated & Electric Vehicles Advanced Certification Starts in March 2023 6 Months

Trending Now

IISc Bangalore

Business Analytics PG Level Certification Starts in March 2023 9 Months

Trending Now

IISc Bangalore

5G Technologies with AI and Cloud PG Level Certification Starts in March 2023 9 Months

High ROI

IISc Bangalore

Mobility Engineering PG Level Certification Starts in March 2023 10 Months

Expert-Approved

IISc Bangalore

Deep Learning (Foundations and Applications) PG Level Certification Starts in March 2023 10 Months

Top-Rated

IISc Bangalore

Machine Learning and AI for Autonomous Systems PG Level Certification Starts in March 2023 9 Months

Highly Demanded

IISc Bangalore

AI and MLOps PG Level Certification Starts in February 2023 9 Months

Most Coveted

IISc Bangalore

Micro and Nanoelectronics PG Level Certification Starts in March 2023 9 Months

Most Popular

IISc Bangalore

Digital Manufacturing and Smart Factories PG Level Certification Starts in March 2023 6 Months

Trusted Choice

IISc Bangalore

VLSI Chip Design PG Level Certification Starts in June 2023 9 Months

Trending Right Now

IISc Bangalore

AI for Digital Health and Imaging PG Level Certification Starts in March 2023 12 Months

Highly Demanded

IIT Madras

Applied Data Science and Machine Learning PG Level Certification Starts in March 2023 12 Months

Most In-Demand

IIT Kanpur

Cyber Security and Cyber Defense Advanced Certification Starts in April 2023 120 Hours Hands-on Program

Trusted Choice

IIT Hyderabad

Visual Design and User Experience PG Certificate Program Starts in July 2023 6 Months

Most Preferred

IIT Hyderabad

AI, Emerging Technologies Professional Certification Program Starts in March 2023 6 Months

Most Preferred

IIIT Hyderabad

Blockchain and Distributed Ledger Technologies Advanced Certification Starts in April 2023 6 Months

Highly Recommended

IIIT Hyderabad

AI and Machine Learning PG Level Certification Starts in March 2023 9 Months

Top Pick

IISc Bangalore

Computational Data Science PG Level Certification Starts in March 2023 12 Months

Most Preferred
CMU School of Computer Science,
Executive Education DevOps Advanced Certificate Program Starts in April 2023 6 Months

Most Sought-After

CMU School of Computer Science,
Executive Education Software Architecture Advanced Certification Starts in March 2023 6 Months

Most Demanded
University of Michigan

Automated & Electric Vehicles Advanced Certification Starts in March 2023 6 Months

Trending Now
IISc Bangalore

Business Analytics PG Level Certification Starts in March 2023 9 Months

Trending Now

IISc Bangalore

5G Technologies with AI and Cloud PG Level Certification Starts in March 2023 9 Months

High ROI

IISc Bangalore

Mobility Engineering PG Level Certification Starts in March 2023 10 Months

Expert-Approved

IISc Bangalore

Deep Learning (Foundations and Applications) PG Level Certification Starts in March 2023 10 Months

Top-Rated

IISc Bangalore

Machine Learning and AI for Autonomous Systems PG Level Certification Starts in March 2023 9 Months

Highly Demanded

IISc Bangalore

AI and MLOps PG Level Certification Starts in February 2023 9 Months

Most Coveted

IISc Bangalore

Micro and Nanoelectronics PG Level Certification Starts in March 2023 9 Months

Most Popular

IISc Bangalore

Digital Manufacturing and Smart Factories PG Level Certification Starts in March 2023 6 Months

Trusted Choice

IISc Bangalore

VLSI Chip Design PG Level Certification Starts in June 2023 9 Months

Trending Right Now

IISc Bangalore

AI for Digital Health and Imaging PG Level Certification Starts in March 2023 12 Months

Highly Demanded

IISc Bangalore

Computational Data Science PG Level Certification Starts in March 2023 12 Months

Most Preferred
IIT Madras

Applied Data Science and Machine Learning PG Level Certification Starts in March 2023 12 Months

Most In-Demand
IIT Kanpur

Cyber Security and Cyber Defense Advanced Certification Starts in April 2023 120 Hours Hands-on Program

Trusted Choice
IIT Hyderabad

Visual Design and User Experience PG Certificate Program Starts in July 2023 6 Months

Most Preferred

IIT Hyderabad

AI, Emerging Technologies Professional Certification Program Starts in March 2023 6 Months

Most Preferred
IIIT Hyderabad

Blockchain and Distributed Ledger Technologies Advanced Certification Starts in April 2023 6 Months

Highly Recommended

IIIT Hyderabad

AI and Machine Learning PG Level Certification Starts in March 2023 9 Months

Top Pick
In case of any queries, please write to us at scholarships@talentsprint.com
Making a Long-lasting Impact
95% Completion Rate
85 Net Promoter Score
7500+ Accomplished Alumni

"I have worked on multiple telecom technologies, from circuit to packet switching. However, 5G is the future, and I find the need to be updated with the current technologies for my profession." Shubhada
Sub Divisional Engineer, BSNL

Alumni of PG Level Advanced Certification Programme in 5G Technologies with AI and Cloud by IISc Bangalore


"I see tremendous disruptive potential in DLT, which can transform industries. Blockchain and DLT have primarily captured my curiosity and motivated me to explore further this time." Jai Dhinesh Balasundaram
VP, Axis Bank

Alumni of Advanced Certification Program in Blockchain and Distributed Ledger Technologies by IIIT Hyderabad


"The programme will strengthen me in international operations, global supply chains and finance theories and practices." Manash Chatterjee
Engagement Delivery Leader, Cognizant

Alumni of Executive Post Graduate Diploma in International Business Strategy by IIFT

"The degree will help me engage stakeholders with international business strategy." Neelakanta Dharmaraja Iyer
Analytics Manager, Accenture

Alumni of Executive Post Graduate Diploma in International Business Strategy by IIFT


"Through this programme, I should be able to guide the business on the industry best practices to improve processes and adopt smart manufacturing techniques." Eugene Moses
Enterprise Solution Architect, Caterpillar Inc.

Alumni of PG Level Advanced Certification Programme in Digital Manufacturing and Smart Factories by IISc Bangalore


"I'm interested in solving business problems in the invoice financing area using DLTs. This program may help me spearhead the emerging payments types." Narendra Paladugu
Vice President, OCBC Bank Singapore

Alumni of Advanced Certification Program in Blockchain and Distributed Ledger Technologies by IIIT Hyderabad

"I am working on wireless domain products. I know RF discrete components and want to improve my knowledge of 5G systems and their architecture. This also helps understand customers in a better way." Sai Jagini
Senior Engineer, Analog Devices

Alumni of PG Level Advanced Certification Programme in 5G Technologies with AI and Cloud by IISc Bangalore


"The Program content is well designed and delivered at par excellence. A-must-go-to Program for an IT professional." Joginder Singh
Qualcomm

Alumni of Advanced Certification Program in Blockchain and Distributed Ledger Technologies by IIIT Hyderabad


"The IIIT Hyderabad faculty is simply superb and competent to teach AI and Machine Learning." Sridhar Chilla
British Telecom

Alumni of Advanced Certification in Artificial Intelligence and Machine Learning by IIIT Hyderabad

"I want to pursue my career in wireless communication. Through this programme, I can see myself moving in that direction and applying my learnings suitably in future projects." Ujjwal Chitransh
Lead Engineer, Radisys

Alumni of PG Level Advanced Certification Programme in 5G Technologies with AI and Cloud by IISc Bangalore


"The programme will improve my global market knowledge, enabling me to take my organisation to the next level." Syed Sajid Imam
Manager, Cognizant

Alumni of Executive Post Graduate Diploma in International Business Strategy by IIFT


"I am currently leading a group of supervisors and engineers, driving smart connected factory solutions. This programme will help me better my ability to expedite these solutions." Balaji Thiagarajan
Quality Manager, John Deere

Alumni of PG Level Advanced Certification Programme in Digital Manufacturing and Smart Factories by IISc Bangalore

"I learnt how to use data in my current portfolio through this programme." Koushik Datta
National Lead, Bajaj Finserv

Alumni of Advanced Programme in FinTech and Financial Blockchain by IIM Calcutta


"This programme not just upskills with the knowledge of the future but also, teaches how to apply these learnings practically in our day-to-day jobs." Adipta Datta
Product Manager

Alumni of Executive Programme for Banking and Financial Sector by IIM Calcutta


"As a person who comes from the engineering side of things, my quest to move into the health sector found my dream come true through this program. It not just caters to my academic qualifications but also to my experiences. " Tufail Ahmed
Product Release Manager, IQVIA

Alumni of Advanced Certificate in AI for Digital Health and Imaging by IISc Bangalore

"This programme sharpens your concepts while helping you grow both professionally and personally." Sujana Balaji
Audit Manager

Alumni of Executive Programme in General Management by IIM Calcutta


"I recommend IISc's VLSI Programme to everyone who is experienced in the industry and still has the vigor to know more and gain expertise." Sanoop Sukumaran
Test Engineer

Alumni of PG Level Advanced Certification Programme in VLSI Chip Design by IISc Bangalore


"Fulfilling the dream to study in a Design college wasn't easy as a working professional until I came across this program that covers basic to in-depth knowledge which helped me scale in my career." Nagendra Rao Savanth
User Interface Designer, Temenos

Alumni of PG Certificate Program in Visual Design and User Experience by IIT Hyderabad
Frequently Asked Questions
Yes, you can apply for the scholarship now and avail it for the next cohort of your chosen programme before March 31, 2023.
The programs are designed for professionals to build new-age expertise and accelerate their career growth.
Education: Working professionals with BE/BTech/ME/MTech in any stream, BCA, B.Sc. CS, MCA, M.Sc. CS
Experience: Minimum 2 years
Yes, we offer corporate or team scholarships for corporate organizations. For more details, get in touch with our Corporate Consultant.
If you are eligible for the scholarship then:
Share your details and apply for the program of your choice
Submit all the necessary documents
The program selection committee will evaluate your candidature
Upon selection, complete your enrollment and join the program
Apply for Scholarship here
Scholarship is offered in the form of concession on the actual programme fee. For more programme-wise scholarship-related details you can also reach out to our relationship manager (RM).
If selected, you can claim scholarship on or before March 31, 2023.
---