Yogesh Agiwal, GM of Training and Development Team at Wipro, "Came Saw and Conquered" TalentSprint on March 22nd
Tue, Mar 22, 2011
Yogesh Agiwal, GM of Training and Development Team at Wipro, visited TalentSprint on Tuesday, the 22nd of March. Mr. Agiwal, the two time receiver of the Azim Premji award for people management, enthralled the trainees and faculty of TalentSprint alike. With just two slides of presentation, he advised the students on varied subjects; from time management to the importance of forming a reading habit, from goal setting tips to grooming tips, from networking tips to how to appreciate your parents better.
With humour and a sharp insight into human behavior, Yogesh Agiwal, encouraged us to not get bogged down by the feeling of 'Failure,' and urged us to "Carry your own weather with you," so that we can have a good day no matter how the weather actually is. The sign of a true leader is one who can stay motivated and forward-looking, no matter how tough the going gets.
Peppered with interesting, inspirational videos, the talk was succinct and reached the audience with the intended force. He used the analogy of 212 degrees Fahrenheit – the point at which water turns to steam, to illustrate how just that extra push, that last ditch effort is often the difference between winning and losing.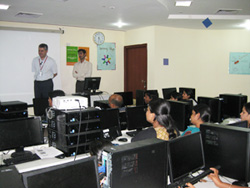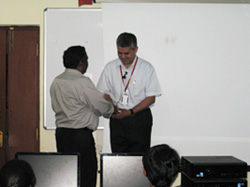 Video