Edge for industry-ready candidates
Mon, May 10, 2010
Article on The Hindu, Education Plus
https://hindu.com/edu/2010/05/10/stories/2010051050220200.htm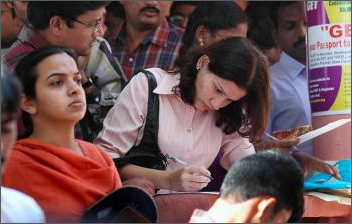 The IT industry offers campus placements to just 15 per cent students and a whopping 85 per cent struggle to find a decent job.
But among these 85 per cent, a good number of candidates can still be picked up by companies if they hone in on their skills a bit. The industry is in search of such candidate, but the demand outreaches the supply.
Advanced Software Engineering Programme (ASEP), launched by TalentSprint, plans to fill this gap by creating high performance professionals through fast track transformations.
"Our programme turns fresh graduates into software engineering professionals," says Santanu Paul, co-founder and chief executive officer of TalentSprint. A known name in the IT sector, J.A. Chowdary, is another promoter of the company.
320-hour curriculum
The programme is a rigorous 320-hour curriculum based on experiential learning and meets the latest industry standards. As Mr. Paul claims, the programme suits the industry and the candidates. Aspirants get to learn industry practices and work on real-life problems while the industry saves good amount of money as candidates are billable from day one.
He reminds that every company has to spend Rs. Two lakh on each candidate, from the time of recruitment till they complete training. "This will help them cut down the costs as industry-ready professionals are here.
More than 300 test professionals have gone through this programme and joined the industry," he says.
Tailor-made
The company has tailor-made programmes, not just for the IT sector but other sectors too, including the robust banking and financial sectors. Mr. Paul argues that the demand for trained and certified fresh graduates is expected to be huge from the IT and banking industry . "The banking sector will alone recruit about one lakh candidates in the next few years and another lakh would be absorbed by the IT industry. It reflects the need for ready made professionals."
Domain knowledge
Mr. Paul rejects the myth that acquiring soft skills will fetch jobs. Students have to be strong on domain knowledge and soft skills are additional. And this programme concentrates on these aspects. He says that corporate partners have also encouraged them to continuously expand the inventory of ready-to-deploy software programmers.
The programmes are being conducted at the TalentSprint premises within the IIIT Campus in Hyderabad. The 90-day programme costs about Rs. 50,000.
Fresh engineering graduates with minimum 60 per cent marks are eligible to apply.