Mr. Bala Rajagopalan, Group Program Manager, Microsoft visited TalentSprint on 11th January, 2012
Fri, Jan 13, 2012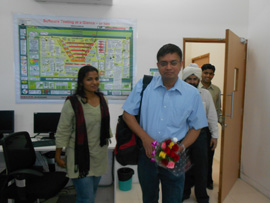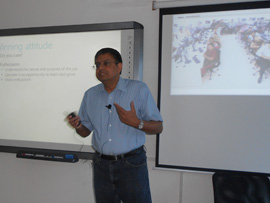 Mr. Bala Rajagopalan, Group Program Manager, Microsoft visited TalentSprint on 11th January, and addressed the trainees of TalentSprint, both in Hyderabad and Chennai (leveraging iPEARL Technology). He spoke extensively of interviewing skills and for the first time the trainees got an idea of what the other side of the table expects from an interviewee.
The answer was the 3 As – Attitude, Aptitude and Affinity.
Mr. Bala Rajagopalan asked the young trainees of TalentSprint to ask of themselves three questions; do you care? Do you have the Skills? Do you fit? He assured the gathered group that these are the 3 things that any interviewer will be looking for in a candidate. He encouraged them to show curiosity and enthusiasm for any job they are interviewing for. Be ready to solve any problem thrown at you during an interview, he said. The process is important, not the final result.
Our trainees from Hyderabad and Chennai asked Mr. Bala Rajagopalan many questions which he patiently answered for over more than an hour. He told the trainees that the most important qualities to inculcate once on the job - is the ability to deliver, no matter what the situation is.