Mr. Srinvasan Chandrasekar talks on "Emerging Technology Trends - The Microsoft View"
Mon, Feb 25, 2013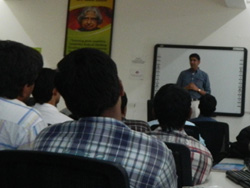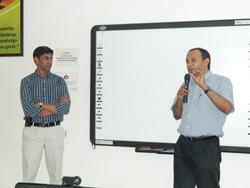 "Have a spark in your eye and fire in your belly" was Srinvasan Chandrasekar's parting message to the trainees of TalentSprint when he addressed them on Friday 22nd, February 2013.The last ten years has seen transformations, revolutions and changes in the technology landscape and he mentioned that it is an exciting time to be in the Industry.
Talking to the trainees about the "Emerging Trends in Technology", he said the there are five areas that he sees tremendous potential.
Mobile Technology: Mobile, iPhones have changed the world, the way people interact and connect. Mobile security, 4G network, advertisement will be areas to explore as one transformation leads to another.
Social Networks:This has been the most significant business development. Consumer connect using social network, social enterprise will be fast emerging trends.
Cloud Computing: Cloud computing is getting new life from Amazon.com, Azure and others who now offer storage and virtual servers that IT can access on demand. This, he said, would reduce cost and make deployment easy.
Consumerization of IT: A large percent of employees view work-related data on their personal mobile devices, and the numbers are only rising. As consumerization is an unstoppable trend, he expressed that companies will look at developing Mobile Devices management software.
Big Data: Explaining "Big Data", he said that 90% of the data in the world today has been created in the last two years alone. Technology to deal with data storage like compression technology will be in demand.
He also mentioned that technology is expanding in the Hardware front and how Microsoft's Kinect could bring gesture recognition to business apps.
Answering to the Trainees' questions on how to build their Resume and prepare for Interviews he emphasized on the importance of building both breadth and depth in the knowledge acquired." The broader the base you build the higher the Pyramid of success."
He encouraged the trainees to move away from the "Herd Mentality" to build, passion, explore, think on their feet, and improve their confidence and communication skills. He concluded by saying that only way to gain respect in an interview is to prepare.