TalentSprint connects with IT industry leader - Bipin Pendyala, VP, CA speaks to next generation of IT Professionals on Sat 3rd March
Mon, Mar 5, 2012
Mr. Bipin Pendyala, Vice-President, CA visited TalentSprint on 3rd March, and addressed a crowd of Next Generation IT Professionals, both in Hyderabad and Chennai (leveraging iPEARL Technology). With over 15 years of experience in campus hiring and interacting with students, he advised the gathered crowd to consider their core aspirations and inherent skills while looking for a job.

We all will slowly evolve into a career, he said, no one will know at the time of looking for their first job, what their career will shape up into.

Mr. Bipin Pendyala asked the young IT students if they wanted an IT job or a job in the IT industry and went on to distinguish between the two. He pointed out how there are more IT jobs outside the IT industry in sectors like Hospitality, Healthcare, Banking, Telecom and the like. He encouraged them to consider these various domains while looking for IT jobs.

He also cautioned them to not chase after compensation at the start of the career, and instead look for and accept a first job that will more convivial to learning.
Eenadu, March 04, 2012


Hans India, March 04, 2012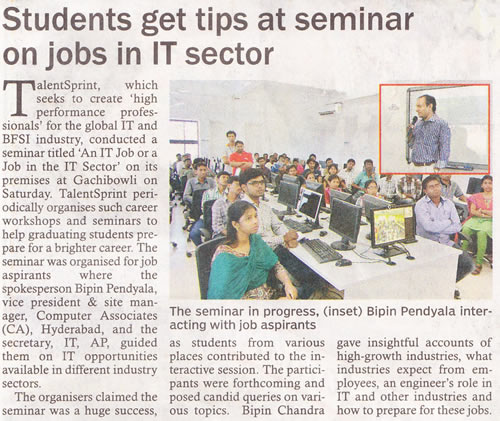 Namaste Telangana, March 04, 2012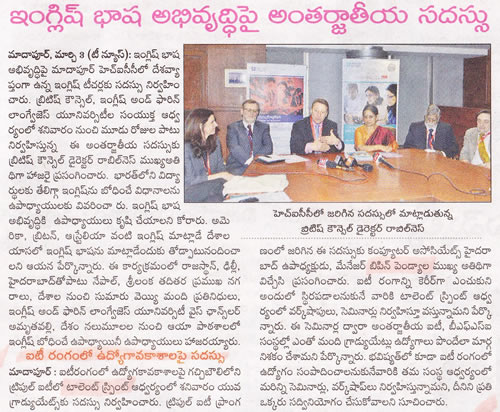 Sakshi, March 05, 2012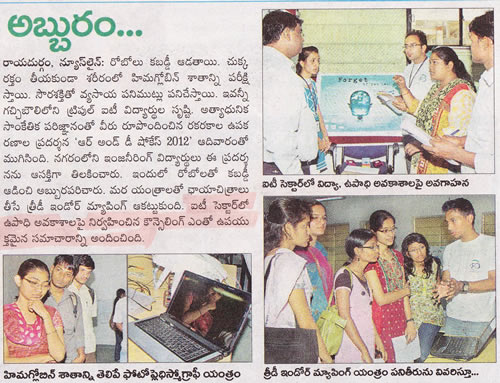 Eenadu, March 03, 2012


Andhra Prabha, March 03, 2012