TalentSprint wins prestigious Skoch Digital Inclusion Award for creating a technology-driven skill development platform that enhances organizational productivity and performance
Fri, Sep 9, 2011
Company to license its technological innovation to corporate customers that aim to disseminate professional skill development programs across a wide geography.
Friday, Sep 09, 2011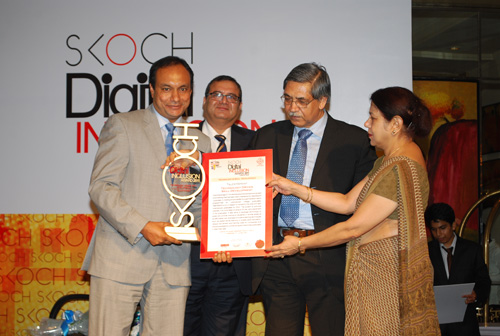 Santanu Paul receiving the Skoch Digital Inclusion Award from K C Chakrabarty, Deputy Governor, Reserve Bank of India

Skoch Digital Inclusion 2011 Award Winners
TalentSprint, a pioneer in skilling professionals for the global industry, has been awarded the Skoch Digital Inclusion Award for its innovative work in the area of Technology-driven Skill Development. TalentSprint's technology and eLearning solutions are built using the principles of Frugal Engineering where solutions are developed cost effectivelywithout compromising on quality for emerging economies. The iPEARL platform permits skill development to scale over a wide geographical area. Its 10xTracks eLearning solutions provide role-based eLearning tracks for high performance software professionals that can be deployed by companies with minimal investment.TalentSprint had used it technology for their internal skilling needs. The company tested its Frugally Engineered software for a year has ironed out any issues and is now ready for commercially marketing the products.

Dr.Santanu Paul, CEO and MD, TalentSprint, remarked, "We are honored by this award conferred on us by the Skoch Foundation. Our technology-enabled skill development solutions have the potential to re-engineer the way corporates plan theirspends in training and skill development. Our iPEARL platform offers live, interactive virtual classrooms and our 10xTracks professional library can deliver role-specific, on-demand learning to employees that need it the most to deliver high performance."
TalentSprint, an NSDC partner company that is already on a mission to transform the lives of 500,000 unemployed graduates by 2020, now offers corporate technology solutions that allow targeted and just-in-time delivery of professional skilling programs across wide geographic distances. These solutions from TalentSprint are designed to increase corporate productivity by maximizing global reach, standardizing quality, and reducing expenses in terms of up-skilling and re-skilling new and existing employees.
Mr. Sameer Kochhar, Chairman, Skoch Group remarked, "The Skoch Digital Inclusion Award recognizes outstanding achievement by organizations that further the cause of social and economic inclusion through innovative technology practices. TalentSprint's unique technology to drive skill development across the country while ensuring high quality and employability is extremely impressive and an eminent jury of experts chose it as the winner in the Technology-driven Skill Development category."
JA Chowdary, Executive Chairman, TalentSprint remarked, "With over 50 partners and a track record of having skilled 2000+ trainees, we believe the time has come to extend our technology-enabled solutions to the corporate sector. This is the only way forward to achieve sustainable skill development in the knowledge-intensive IT and BFSI verticals."
TalentSprint has centres in Hyderabad, Chennai, Anantapur and Tirupathi. To learn more about TalentSprint visit www.talentsprint.com.
About TalentSprint
TalentSprint (www.talentsprint.com) is a leader in creating high performance professionals for the global industry through fast-track transformations. Focused on BFSI and IT sectors, TalentSprint has developed experiential learning programs that are based on industry-designed curriculum and are backed by national or international certifications. Taught by seasoned professionals with deep domain expertise and years of industry experience, the courses are focused professional education and practical learning that are applicable in the workplace immediately.
About Skoch Awards
Skoch Awards (www.skoch.in), the oldest, most prestigious and comprehensive civilian award was constituted by Skoch Consultancy Services, an independent industry analysis and strategy consulting company based out of Gurgaon. Skoch Awards honor the extraordinary accomplishments enhancing inclusive growth and good governance.