Technological innovation underpins an economy
Tue, Jun 15, 2010
The future of IT in the long term is limited only by our imagination, says the founder of Talent Sprint
http://www.ciol.com/News/News/Interviews/Technological-innovation-underpins-an-economy/137653/0/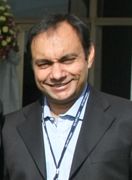 TalentSprint is a company that provides experiential programs called 'sprints' based on industry-designed curriculum and helps to chisel the talent of young professionals in the field of Information Technology, Banking, Financial Services, and Insurance, thus helping reduce the cost of recruitment and induction.
Santanu Paul, founder, Talent Sprint, talks to Sudhakaran of CyberMedia News about the barriers that hinder the growth of young professionals in India and how TalentSprint's training programs help them.
IT is still the big thing when it comes to opening up new avenues in profession. But do you think IT has a bright future in the long term?

The future of IT in the long term is limited only by our imagination. Thomas Watson, president and CEO of IBM, in 1943 said, "I think there is a world market for maybe five computers." We see today, how the world has changed from 1943 and how IT has become an integral part of our lives. Most of us are unable to function without a personal computer with an Internet connection at home and access to email.
We believe that technological innovation is one of the cornerstones of the world economy. We see innovations and changes in every sphere including computers, medicine, genetics, infrastructure, healthcare and energy. All this ultimately translates into increasing the demand for IT products and services in the form of faster computing, efficient data processing, greater need for collaboration etc.
All this ensures that IT has a very bright future in the long term. This is one of the areas which will continue to grow and will absorb a lot of bright young professionals for years to come. India is also moving up the value chain and contributing more innovative products and services to the global economy. We will see this create a proliferation of jobs in India in the IT Industry in the long term.
There are a large number of technology graduates in India; however, many of them are unable to find a proper job. What according to you are the barriers that hinder their growth?
There are a large number of private technical institutions that have cropped up all over India. Most of these institutions suffer from lack of infrastructure and adequate supply of well-trained faculty. They are also out of touch with the requirements of the industry and marketplace. The result of this is that though they churn out a large number of technical graduates, they are unable to find jobs due to lack of technical training and poor communication skills.
In fact, this problem is so severe that it has resulted in only one in four engineering graduates and one in 10 graduates with generalist degrees that are considered employable by multinational companies (source: The Rao Committee Report of 2003 - a five-member committee headed by U.R. Rao, a prominent scientist and former chair of the India Space Research Organization, that was established by the Ministry of Human Resources Development (MHRD) to review the performance of the AICTE).
What is the value addition that 'sprints' offer to students?
TalentSprint's short experiential learning sprints were started to fulfill this gap between the youth of today that struggle to find jobs because of the lack of adequate training and large multinationals companies that are unable to recruit well qualified entry level talent. TalentSprint puts the youth through short, experientially focused learning programs and then places them with corporations in entry level engineering and banking positions.
The program is innovative in that it is experientially focused and aims to transform unemployable youth to confident, well-rounded, competent technology professionals by providing them with world-class technical and professional development training. Rather than being an extension of their college education, this program acts as the first step of their professional career.
The highlights of the training program are:
Experiential Learning: TalentSprint follows a practical, case-study driven approach to teaching. Students are introduced to tools they will be using in the workplace early on in the program. They are encouraged to work on technical projects in groups as that is what is required in the workplace.
Professional Work Ethics: Students explore what is required for them to be considered truly professional in the workplace. Discussions and role playing techniques are used to demonstrate standards of professional conduct and communication.
International Certifications: The finishing line for our students is an international certification. The certifications are International Software Testing Board (ISTQB) Certification for Testing Professionals and Sun Certified Java Programmer (SCJP) for Software Engineering Professionals.
The program is also unique in that it guarantees that more than 80-90 per cent of its graduating professionals will get jobs with large multinationals at the end of the program. The company works with graduates and continues to mentor and counsel them till they are placed with a company even after the training course is over.
Do you have a tie-up with any corporate houses to provide training for the existing professionals?
We have tie-ups with several well-known banks and IT firms to deliver programs on domain concepts, business communications, and high performance leadership. These are aimed at experienced professionals with many years of experience. In addition, we have begun conducting public experiential learning workshops in a short format that are open to all IT professionals.
Apart from IT, which are the other segments that TalentSprint is focusing on?
Apart from IT, TalentSprint also focuses on providing training for BFSI clients. Currently we have a retail banking sprint where we are sourcing and training MBA Finance graduates for them to get absorbed as credit loan officers at a private sector bank.
In addition, as noted above, we are also providing a number of courses under our continuing education program to large public sector banks.