Mr. Veerendra P. Mathur Joint Managing Director and COO at Future Focus Infotech, a Zinnov Excellence Award winning company visited TalentSprint on 18th May 2011
Fri, May 20, 2011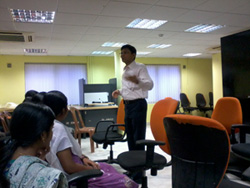 Mr. Mathur heads the organization's HR, General Administration, and Business Delivery Teams and at TalentSprint he shared his professional experience and motivational talk with the students on how they can grow in their career.
Mr. Mathur was very particular about the attitude of the freshers looking to join today's IT Industry. When he was questioned about whether attitude or aptitude was important for students, he replied that whereas technology changes every day, attitude is what counts - when a person has the attitude to learn and accept new knowledge, he will be able to deliver the results.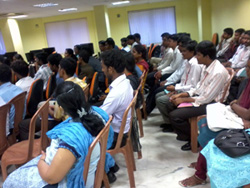 With an emotional and inspirational talk, he defined how failures can be handled and how a person can overcome it. Knowledge is the most valuable thing you can acquire from failure. Failure can breed new opportunities and new knowledge for you. Failure reaffirms your goals and refreshes your memory as to why you wanted to reach a certain destination in the first place.