NSDC confers Best Performing Partner Award on TalentSprint
Thu, Jul 4, 2013
Company receives a prestigious NSDC award second year in a row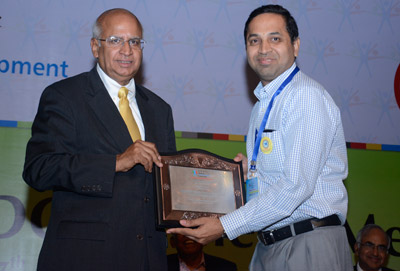 Hyderabad, 3rd July, 2013: TalentSprint, a pioneer in professional skill development and talent transformation for the IT and Banking sectors, has received the prestigious 'Best Performing Partner Award' for 2012-2013 from the National Skill Development Corporation (NSDC). The award was received on behalf of TalentSprint by Mr. K. Sridhar, Senior Vice President, from Mr. S. Ramadorai, Chairman, NSDC and Skills Adviser to the Prime Minister. TalentSprint received a similar NSDC award in the previous year 2011-2012, making it two successful wins in a row.
NSDC has instituted these awards to recognize the services of partner organizations over the last two years. NSDC has approved over 100 partner companies focusing on skill development. The winners are judged on various parameters that include company performance, placement of candidates trained, industry integration, financial performance, quality of management, and execution of strategy among others.
Marking the occasion, the founding team of TalentSprint comprising Dr. Santanu Paul, Mr. Madhumurty Ronanki, and Mr. J.A. Chowdary said, "We are delighted to receive a coveted NSDC award for the second time in two years. This award is a recognition of our differentiated approach to skill development and our ongoing commitment towards making young graduates employable and industry-ready. We remain steadfast in our intent to skill 500,000 trainees across the country by 2020, through a unique combination of contact, virtual, and experiential learning".
Mr. Dilip Chenoy, CEO and MD of the NSDC, remarked, "We are pleased to recognize TalentSprint for their continuous innovation in the field of skill development. They have been pushing the limits of blended learning for quite some time to achieve greater scale with quality, and their focus on combining conventional and new methods of training is commendable. We wish them the best in meeting and exceeding their skill development goals in the years to come."
TalentSprint, which has also received investment from Nexus Venture Partners, offers advanced industry-oriented certification programs to fresh graduates using a proprietary delivery platform. The programs blend diverse skills and are delivered by best-of-class, industry practitioners to new graduates during or after college, thereby greatly improving their prospects of getting employed in a difficult labour market.