TalentSprint connects with Srinivasan Chandrasekar, Director Program Management, Microsoft, India on Friday, February 22, 2013.
Sat, Feb 16, 2013
Srinivasan Chandrasekar will address TalentSprint trainees on "Emerging Technology Trends - The Microsoft View" from 4.30-5.30 pm.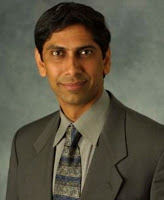 Srinivasan Chandrasekar is the Director of Program Management in the Server & Tools Business at Microsoft, India. He is responsible for product strategy and execution in the areas of networking, backup and business continuity for Windows Server and System Center suite of products. Before joining Microsoft in 2010, Srini was the Chief Operating Officer at Aztecsoft. Prior to that, he co-founded a company in the eLearning space that was acquired by Click2learn, and subsequently became SumTotal Systems, where he was Sr. VP of Products. He started his career as a developer at Microsoft. Srini has an MS in Computer Science from Colorado State University and a B Tech. in Computer Science from IIT, Madras.