TalentSprint Launches Bankers Choice in South India
Wed, Oct 3, 2012
Enables graduates seeking careers in public sector banks
Acquires Deccan Career Point in Hyderabad
Business Standard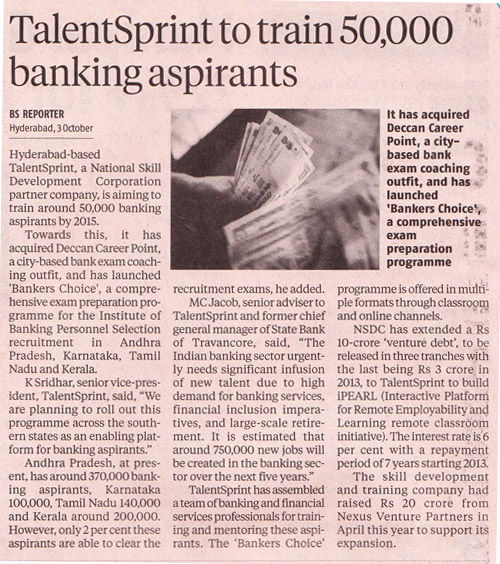 The Hans India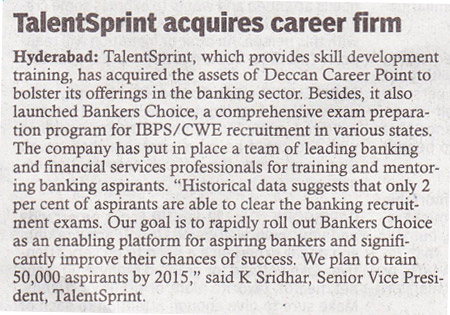 Sakshi


TalentSprint, a leader in professional skill development and talent transformation, has launched Bankers Choice, a comprehensive exam preparation program for IBPS/CWE recruitment, in the states of Andhra Pradesh, Karnataka, Tamil Nadu and Kerala. The company has also acquired the assets of Deccan Career Point to bolster its offerings in the banking sector. Rameswar Mandali, founder of Deccan Career Point, has joined the TalentSprint leadership team.
An NSDC Partner Company with equity funding from Nexus Venture Partners, TalentSprint will create future bankers through the Bankers Choice program. The company has assembled a team of leading banking and financial services professionals for training and mentoring banking aspirants. Bankers Choice is offered in multiple formats through classroom and online channels. More than 1500 aspiring bankers have been trained and the company is planning to open centres across South India.
M. C. Jacob, Senior Adviser to TalentSprint and formerly Chief General Manager at the State Bank of Travancore, said, "The Indian banking sector urgently needs significant infusion of new talent due to high demand for banking services, financial inclusion imperatives, and large scale retirement. It is estimated that 7.5 lac new jobs will be created by the banking sector in the next 5 years. The need of the hour is a large-scale program to transform young graduates into banking professionals who will spearhead the country's growth for the next 3 decades."
K. Sridhar, Senior Vice President at TalentSprint said, "At this time, there are 3.7 lac aspiring bankers in Andhra Pradesh, 1 lac in Karnataka, 1.4 lacs in Tamil Nadu and 2 lacs in Kerala. Historical data suggests that only 2% of aspirants are able to clear the banking recruitment exams. Our goal is to rapidly roll out Bankers Choice as an enabling platform for aspiring bankers and significantly improve their chances of success. We plan to train 50,000 aspirants by 2015."

Rameshwar Mandali, Director of Banking at TalentSprint said, "I am very pleased to join the TalentSprint Team. As a former State Bank probationary officer, I have first-hand experience of the challenges faced by new graduates in entering the banking sector. I am confident our programs will provide a much-needed experiential edge to our trainees and greatly improve their success rate."
For more information on Bankers Choice visit bankerschoice.talentsprint.com.
https://business-standard.com/india/news/talentsprint-to-train-50000-banking-aspirants-by-2015/189521/on
https://thewire.ajallmendinger.com/article/05XfeY55Z99AR?q=Hyderabad
https://i4u.com/2012/10/launches-talentsprint-andaposbankers-south-india-choiceandapos
https://sify.com/finance/talentsprint-to-train-50-000-banking-aspirants-news-banking-mkebvQgajei.html
https://news.webindia123.com/news/Articles/India/20121003/2075954.html