TalentSprint to Receive Strategic Investment from NSDC to Accelerate Professional Skill Development; Launches its Chennai Advanced Learning Center
Fri, Mar 4, 2011
Chennai, India
https://www.business-standard.com/india/news/nsdc-picks6-pc-stake-in-talentsprint/427331/
TalentSprint, an emerging leader in professional skills development for knowledge sectors such as IT and BFSI, has received a strategic investment from the National Skill Development Corporation (NSDC), a public‐private partnership company set up under the aegis of Ministry of Finance. The announcement was made at the launch of TalentSprint's Advanced Learning Center in Chennai in the presence of M.V. Subbiah, Chairman of National Skill Development Corporation, and N. Ram, Editor-in-Chief, The Hindu.
In a short span of two years, TalentSprint has several achievements under its belt. It has successfully skilled over 1,200 unemployed college graduates in technology, domain and business communications enabling them to get their first job at salaries ranging from Rs. 1.5 to Rs. 3.2 lacs per annum. Leveraging its deep industry relationships, the company has built a strong partnership base of over 40 companies. TalentSprint has also started its first Remote Learning Center in Anantapur, Andhra Pradesh to serve the cause of social inclusion, where trainees from rural backgrounds are participating in its flagship Software Testing Foundation Program through a virtual classroom.
The National Skill Development Corporation aims to fulfill the growing need in India for skilled manpower across sectors and to narrow the existing gap between the demand and supply of skills. Speaking on the occasion, M.V. Subbiah, Chairman of NSDC, said, "When assessing companies to partner with, we look for business models that can enable large scale skill development and promote employability. We believe that TalentSprint's exceptional team and technology-based approach targeted at knowledge-intensive sectors such as IT and BFSI will enhance employability for a vast majority of the nation's college graduates who are considered unemployable by industry."
Speaking on the occasion, Dr. Santanu Paul, CEO and Managing Director, TalentSprint, said "We are delighted to welcome NSDC as a strategic investor and partner in our professional skill development mission. This is a very significant milestone for our young firm and reflects favorably on the creativity and commitment of our team. Under this agreement, NSDC will take a 6% stake in TalentSprint and extend a Rs. 10 crore loan facility that will allow us to skill 500,000 professionals over the next 10 years, through the innovative deployment of technology, digital content, and experiential learning methods. It will allow us to take our offerings to semi-urban and rural youth, giving them access to well-paying jobs in growth sectors of the Indian economy such as IT and BFSI, both of which are starved for good talent."
Speaking on the occasion, J.A. Chowdary, Executive Chairman at TalentSprint said, "We are very pleased to launch our Advanced Learning Center in Chennai with a capacity to skill more than 1000 trainees per year. Chennai is the second largest IT hub in the country as well as a thriving center for banking and financial services. With a very high number of colleges that produce about 200,000 engineering graduates each year, Tamil Nadu is an ideal place for us to expand our operations."
TalentSprint has world class learning facilities in Hyderabad, Chennai and Anantapur, with a capacity to skill over 3,000 trainees per year. More information on programs and employability can be obtained at www.talentsprint.com.
About TalentSprint
TalentSprint (www.talentsprint.com) is a leader in creating high performance professionals for the global industry through fast-track transformations. Focused on BFSI and IT sectors, TalentSprint has developed experiential learning programs that are based on industry-designed curriculum and are backed by national or international certifications. Taught by seasoned professionals with deep domain expertise and years of industry experience, the courses are focused on professional education and practical learning that are directly applicable in the workplace. The company has successfully graduated 1200 professional that have been recruited by 40+ leading companies in the IT and BFSI sector.
About National Skill Development Corporation India
The National Skill Development Corporation India (www.nsdcindia.org) is a one of its kind, Public Private Partnership in India. It aims to promote skill development by catalyzing creation of large, quality, for‐profit vocational institutions. It provides viability gap funding to build scalable, for‐profit vocational training initiatives. Its mandate is also to enable support systems such as quality assurance, information systems and train the trainer academies either directly or through partnerships. Its objective is to contribute significantly (about 30 per cent) to the overall target of skilling / upskilling 500 million people in India by 2022 mainly by fostering private sector initiatives in skill development programmes and providing viability gap funding.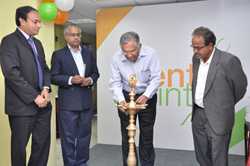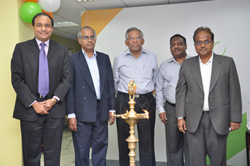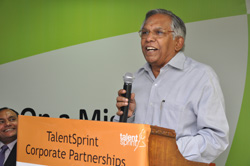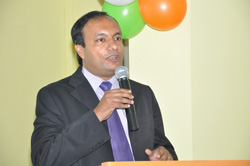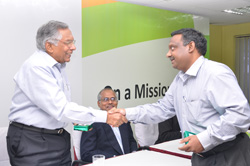 Sumali Moitra
Principal – PR & Advocacy
National Skill Development Corporation
Phone: 91‐11‐46560412‐16
Mobile: 91‐9831030102
E‐mail: sumali.moitra@nsdcindia.org