TalentSprint sponsored a NASSCOM HR Forum event in Chennai on 30th Jan 2012
Wed, Feb 1, 2012
The topic of the forum was – "Unconventional Talent Management - The New Normal for 2012"
Vaartha, Feb 1, 2012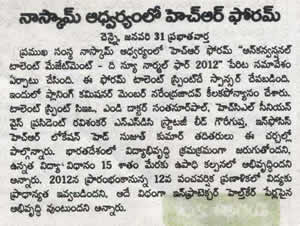 News Today, Jan 31, 2012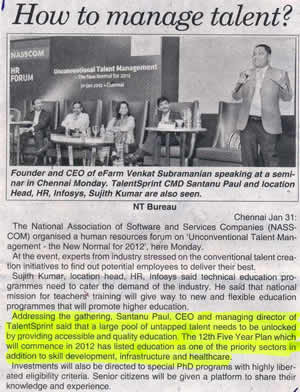 Nungai Times , Feb 6, 2012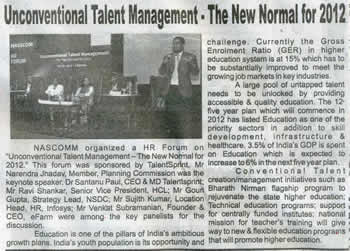 Nungai Times , Feb 6, 2012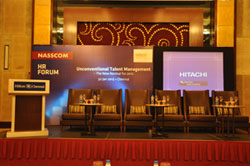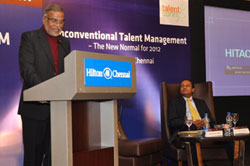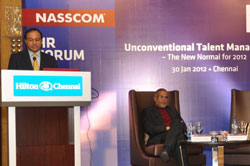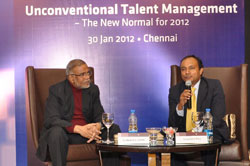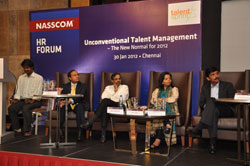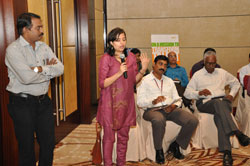 Dr. Narendra Jadhav, Member, Planning Commission Government of India discusses the New Normal option of managing the Talent Crisis in India in his keynote address
Dr. Narendra Jadhav addressed this challenge of the lack of qualified, employable graduates from the Planning Commission perspective with regards to developing the 12th Five Year Plan 2012-2017. The challenge the government faces currently amongst many is Low Gross Enrolment Ratio (GER), access to and the quality of a large untapped talent as well as a poor employability rate.
Some Conventional Initiatives Planned by the Planning Commission:
Bharath Nirman, a Flagship Program to rejuvenate the State Higher Education and explore talent in universities.
Support for Centrally Funded Institutes in order to raise the standard of learning.
Technical Education Quality Program to cover all technical institutions.
Initiative for Equity for Women, Excluded Communities and other community specific schemes.
National Mission for Teacher's Training to raise the standard of teaching.
Some Unconventional Initiatives Planned by the Planning Commission:
India Excellence Initiative to create innovation in universities and include greater degrees of freedom in operation.
National Mission of ICT in Higher Education to create a national knowledge of network to connect all universities, Laboratories, to move towards creating a Meta University.
Committee led by Narayana Murthy to encourage the private Sector's involvement in Education Systems.
Dr. Narendra Jadhav also spoke about the challenges faced by the HR in developing fresh entry level talent into qualified professional. Most companies aspire to hire top talent from top universities. They visit only the premier campuses to recruit their future employees. Moreover, companies at these colleges then want to hire only the top performers. Hence the top 20% of the talent pyramid get multiple job offers while the others may not get a job at all. This increases demand, raises costs for top talent exponentially and leaves a large segment of the population unemployed.
This was followed by a Panel Discussion which was moderated by Dr. Santanu Paul. The panelists were Mr. Ravi Shankar, HR-SVP - HCL, Mr. Sujith Kumar, HR-Location Head-Infosys, Ms. Gouri Gupta, Strategy Lead – NSDC and Mr. Venkat Subramanian, CEO-eFarm.

The panel brought in different perspective on Unconventional Talent management. Ravi Shankar and Sujith discussed unconventional talent management from a large company perspective whereas Venkat Subramanian talked about small companies and their use of unconventional methods to hire and up skill their employees. Gouri Gupta talked about policy changes needed for the skill development firms to be more pertinent to the cause.