Press Release - WISE Program
Fri, Nov 11, 2016
TalentSprint in collaboration with its partners plans to groom 1000 high-end women software engineers in the next three years, through its Women in Software Engineering (WISE) program
TalentSprint has announced that it will deploy its exclusive WISE program (Women in Software Engineering) to skill and empower 1000 young women graduates who can aspire for advanced technical roles in the global IT sector.
With universities and colleges striving to produce a reliable supply of high quality women engineers who can undertake advanced technology work, TalentSprint has been engaged in creating a highly talented pool of women software engineers who can compete with the finest minds in software programming. The WISE initiative is being run in collaboration with academic and industry partners.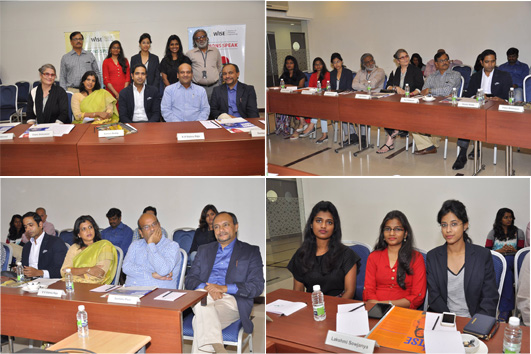 Addressing journalists, Dr. Santanu Paul, TalentSprint's Co-Founder and CEO, said, "Globally, women have less access to complex technology assignments compared to men. Through our WISE program we hope to bridge this gender bias as we believe diversity in the workplace is extremely important in today's technology world. Women bring a different perspective and sensibility that is required to build successful technology organizations. Our WISE program therefore mentors and develops women software engineers from lesser known colleges to compete head to head with IITians, NITians, and IIITians."
WISE is a boot-camp style program based on experiential and self-learning. It equips select women graduates with the latest industry tools, modern programming practices, and helps them to secure positions at top software companies in the country. Some of its graduates have been mentored by top women engineers at Microsoft, launched their apps on Microsoft and Android App Stores, made it to Google Summer of Code, won the National IT Skill Competition, and been selected to represent India at the World Skill Olympics.
Sharing her experiences, Charu Srinivasan, Partner Group Engineering Manager, Cloud & Enterprise, Microsoft India (R&D) Pvt. Ltd. said, "WISE believes that we can inspire women to pursue careers in computing by exposing them to real life role models and providing experiential learning opportunities. Our Microsoft mentors have embraced the WISE program because we want to help young women software engineers to achieve any goal they set for themselves. Our program was launched with great enthusiasm and this has grown stronger with each batch. The initiative has sparked strong support within the organization and to see the mentees grow in ability and confidence is extremely motivating as we can see how our guidance supports their professional development. The most encouraging aspect is that each mentee is becoming an agent of change, forming mentoring rings to steer fellow students. Nurturing our mentees to become confident game changers has been very satisfying for the mentors at Microsoft."
WISE program was initially launched by TalentSprint in 2013 in partnership with BVRIT Women's College in Hyderabad with the aim of creating world-class women engineers from within lesser-known colleges. WISE program was later extended to the Sri Vishnu Engineering College for Women in Bhimavaram, West Godavari District. According to K. Vishnu Raju, Chairman, Vishnu Educational Society, "This is an exciting time for our women's colleges. The WISE program is targeted at providing world-class software education to all our women students. This innovative program from TalentSprint is turning them into outstanding engineers and helping reduce the gender gap in the software industry. With the help of this strategic partnership with TalentSprint, our aim is to align ourselves with contemporary and future expectations of the global IT sector."
Speaking on the occasion, Suman Reddy, MD, Pegasystems India, said, "This is a far reaching initiative from TalentSprint. We are totally committed to making our organization a diversity leader and bringing high-quality women software engineers onboard. The WISE program has the perfect design to achieve our strategic objectives. The idea of recruiting women software engineers straight out of college who are well-schooled in the latest software engineering principles and techniques is very exciting indeed. "
WISE Program philosophy
Enable students to work with Mid-Size software systems (more than 100,000 lines of code) by experiential learning.
Focus on building a complement of skills to make the women confident and competent.
Develop an impressive resume with visible and verifiable expertise and experience, relevant for large Multi-National Software Organizations.