TalentSprint appoints Sreekanth Lapala as Head of Technology; Launches TenXLabs
Wed, Apr 6, 2011
https://www.mydigitalfc.com/corporate-releases/talentsprint-appoints-sreekanth-lapala-head-technology-launches-tenxlabs-890
The New Indian Express, 29th April, 2011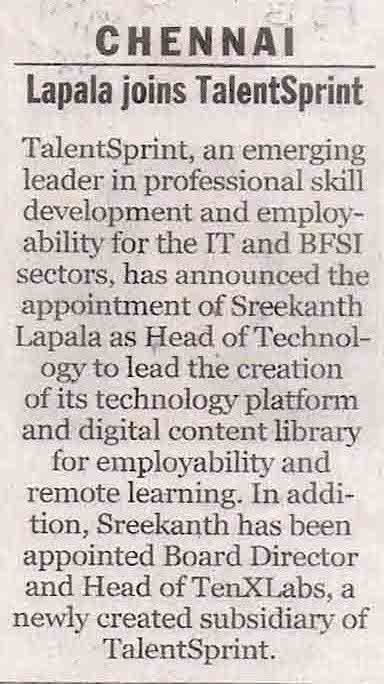 The Hindu, 6th April, 2011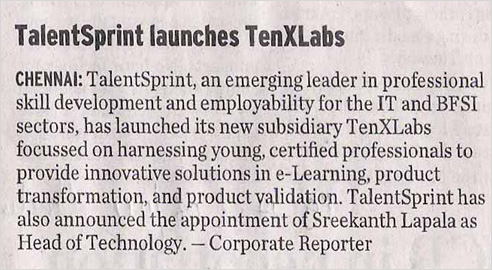 Visalandhra, 10th April, 2011

Andhra Jyothi, 9th April, 2011

Surya, 9th April, 2011
TalentSprint, an emerging leader in professional skill development and employability for the IT and BFSI sectors, has announced the appointment of Sreekanth Lapala as Head of Technology to lead the creation of its technology platform and digital content library for employability and remote learning. This is a key enabler of the company's mission to skill 500,000 professionals by 2020.
In addition, Sreekanth has been appointed Board Director and Head of TenXLabs, a newly created subsidiary of TalentSprint focused on harnessing young, certified professionals to provide innovative solutions in the areas of e-Learning, product transformation, and product validation. Based on the principles of frugal engineering, TenXLabs aims to create high-quality solutions for emerging markets, particularly in developmental sectors such as Education, Healthcare, and Financial Inclusion.
Prior to joining TalentSprint, Sreekanth spent nine years at Virtusa Corporation where he grew to be the Head of Delivery at the Chennai Advanced Technology Center. He played a pivotal role in delivery management and scaling the center to a 1500 member team.
Santanu Paul, CEO and Managing Director at TalentSprint commented, "Sreekanth is a next generation leader with the right balance of business acumen and technical competency. His ideas on frugal software engineering will give us the necessary edge to deliver differentiated solutions to our internal and external stakeholders".
Sreekanth Lapala commented, "Frugal software engineering requires us to be open to not just technology and process innovation, but also organizational innovation. It is critical to create lean cross-functional teams, eliminate all redundancies, and focus early on meaningful stakeholder outcomes. Given the ambitious mission of TalentSprint and TenXLabs, I look forward to the exciting opportunity ahead. "
The company operates out of Hyderabad and Chennai. More information on TenXLabs can be found at www.tenxlabs.com and TalentSprint at www.talentsprint.com.
About TenXLabs
TenXLabs (www.tenxlabs.com) is focused on creating innovative solutions in e-Learning, product transformation and product validation for companies in the BFSI, Healthcare and Education sectors. Based on the principles of frugal engineering, TenXLabs delivers highly optimized solutions that deliver meaningful stakeholder outcomes. The company leverages lean cross functional teams and young talent to promote new ideas, encourage creative thinking and bring about technological, process and organizational innovation.
About TalentSprint
TalentSprint (www.talentsprint.com) is a leader in creating high performance professionals for the global industry through fast-track transformations. Focused on BFSI and IT sectors, TalentSprint has developed experiential learning programs that are based on industry-designed curriculum and are backed by national or international certifications. Taught by seasoned professionals with deep domain expertise and years of industry experience, the courses are focused on professional education and practical learning that are directly applicable in the workplace. The company has successfully graduated 1200 professional that have been recruited by 45+ leading companies in the IT and BFSI sector.